Researchers say music can make you exercise harder. And, as the New York Times reported last fall, if you can create or affect music with your exercising, the exercising feels easier. The author of that piece suggests that this could mean "the human love of music might have evolved, in part, to ease physical pain."
The most visually interesting app at the SXSW Interactive tradeshow runs on a television connected to a treadmill. With Tread The Moon, an experimental project from Hackist, a division of Tokyo-based digital marketing firm Hakuhodo i-studio, the faster you run, and the higher your heart rate, the more intricate the music becomes.
"They've come up with a little hardware and a program that connects to most treadmills, and it gives you a graphical display on a monitor of a path that you run on — they call it a graphical display of the moon — and the faster you run, the more complex the music gets, and it becomes a little more motivating for you," explained Damon Clyde, who was working the booth for Hackist. "It keeps you moving and on the treadmill without getting too terribly bored."
Tread The Moon is still in prototype stage, but Hackist plans to develop more scenes, graphics, and music.
"We've got a lot of ideas from the people here — some of them I can't say outloud," said Clyde.
For now, the company is seeking exposure, which we are happy to provide, because we tried this thing, and it's pretty cool. After that, they'll be looking for partners to develop the idea further.
Here's some quick-and-dirty video from the SXSW Interactive show floor: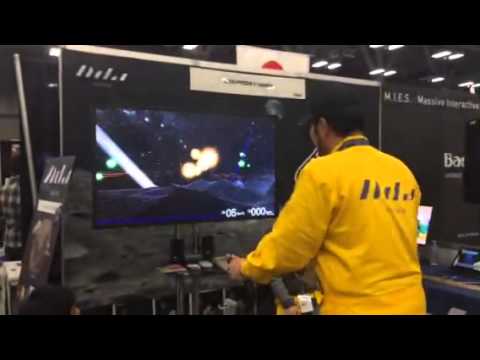 And here's the official video from Hackist/Hakuhodo: