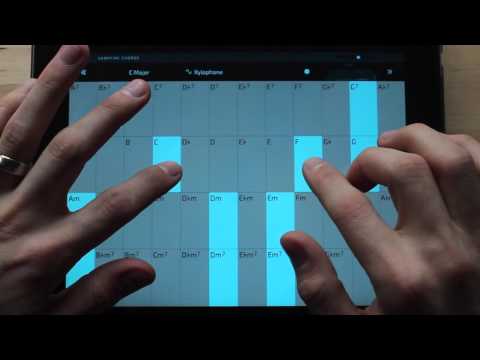 Some music-making apps are designed for Jedi-level music producers who can't wait to get back into the studio, while others are for beginners looking to have a little fun.
FiddleWax ($3, iOS), from Adam Kumpf of Luxemborg, sits somewhere in the middle. Anyone could pick it up and make something resembling music, but if you know your music theory (or are willing to learn by doing), Fiddlewax rewards your knowledge with its versatility.
You can play any common chords, as well as some less common ones, as well as individual notes. You can play up to ten notes/chords at once, assuming you have incredibly small fingers or an iPad. Fiddlewax lays out the notes in a simple grid format — no attempt to look like a piano, guitar, or anything else.
Using a simple interface, you can toggle between the sound of piano, accordion (with its own note layout), guitar, electric guitar, kalimba, trumpet, xylohone, or harp. There's also room for four user-generated tones, which you can play like any other — just hum, whistle, or cough (ala Ferris Bueller) into the microphone, and you can play that sample as any note or chord.
"Beginners can have fun by fiddling around with how notes, chords, and samples sound together," explained Kumpf via email. "Over time, the hints on each key (note name, chord degree, chord type, etc.) become a powerful way to learn about music and compose phrases or songs."
It's not without its limitations — there's no multitracking, the grid-button layout can be a little confusing at first for people used to actual instruments (although it's helpful for learning the names of chords, and what they sound like), and you can only record within the app for up to two minutes (with the option to email your creation as an .m4a file).
But for $3, FiddleWax is a worthwhile addition to the iOS device of anyone who wants to learn how to compose music chordally, wherever they are, and even use their recordings (or MIDI outputs) as a scratchpad for recording real music.
The latest version adds the ability to output MIDI wirelessly to Garageband, Logic, or any other digital audio workstation, so you can play all of the virtual synths and use any effects you might have within that program. We can see this feature being pretty useful to real musicians, because they could begin crafting a song using FiddleWax, then fine-tune the editing and add multitracking on their computers.
Here's some noodling we did during testing (the above video is also helpful for understanding how FiddleWax sounds):