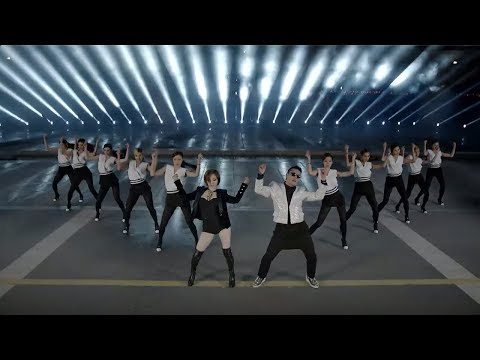 Do you still doubt that 2013 is the year when virality went beyond being a promotional phenomenon, and became an actual music format in and of itself?
Consider that Psy's "Gentlemen" (above), which appears designed to attract the same sort of lightning that struck his earlier hit "Gangnam Style," is the most popular video on YouTube for 2013. As of this morning, his video is poised to break 600 million views.
That's the sort of number you can't hit on YouTube even if you try to cook the books.
Here are the top videos on YouTube for the year so far, as Google points out in its year end YouTube post. Look at all the stars who failed to measure up to the glory of this portly superstar from Gangnam District (totals from USA Today), whose "Gangnam Style" remains the most popular video ever to appear on YouTube, which probably makes it the most popular audiovisual work in the history of mankind:
1. Psy – "Gentlemen," 598 million views
2. Miley Cyrus – "Wrecking Ball," 393 million views
3. Miley Cyrus – "We Can't Stop," 304 million
4. Katy Perry – "Roar," 251 million.
5. Pink – "Just Give Me A Reason," 236 million
6. Robin Thicke – "Blurred Lines," 231 million
7. Rihanna – "Stay," 219 million
8. Naughty Boy – "La La La," 201 million
9. Avicii – "Wake Me Up," 184 million
10. Selena Gomez – "Come & Get It," 181 million
As for the top "trending" videos of the year, you may have already guessed that the reverse-engineered-in-a-lab-to-be-viral "What Does The Fox Say?" claimed the top spot (text from Google).
1. "The Fox (What Does the Fox Say?" by the Norwegian comedy/music duo known as Ylvis ( Vegard and Bård Ylvisåker). 275 million views.
2. Harlem Shake, (a comedy re-imagining) by Kenneth Aakonsen, who is also from Norway. 95 million views.
3. How Animals Eat Their Food: Mister Epic Mann. Two guys make a mess at the dinner table. 88 million.
4. Miley Cyrus – Wrecking Ball. A lip-synch comedy version on chat roulette by Steve Kardynal. 77 million.
5. Baby & me: A dancing baby video commercial for Evian water. 67 million.
6. Volvo Trucks – The Epic Split. Actor Claude Van Damme in a stunt video for Volvo Trucks: 59 million.
7. YOLO – The Lonely Island. Music video by the comedy troupe featuring former Saturday Night Live star Andy Sandberg. 53 million.
8. Telekinetic Coffee Shop Surprise, CarrieNYC. A reality spoof staged by the producers of the Carrie remake, in which a woman appears to have real telekinetic powers. 50 million.
9. THE NFL : A Bad Lip Reading by BadLipReading, a filmmaker who inserts "what if" language into actual film footage. 44 million.
10. Mozart vs Skrillex. Epic Rap Battles of History. The comedy duo, which reimagines verbal duels with historical figures. In this segment, the classical composer takes on the electronica composer. 42 million.
Note that all of the top videos on YouTube for 2013 are music, while roughly half of the top trending videos on YouTube are music, which is one big reason you'll be able to subscribe to YouTube as a premium music service in 2014.