MALMÖ, SWEDEN – Computers are pretty neat. How else can relatively unmusical people produce music that sounds like it was made by a pro?
We recently took a look at MashUp DJ, which lets anyone remix two songs together in three clicks — and now, at Music Hack Day Malmö, we've witnessed a step sequencer called Beater that lets anyone who can click a mouse or trackpad add drums, keyboards, and/or bass to a number of pre-filled pop songs.
The concept is neat, but the Beater app – or "hack," rather — is not perfect. It pulls audio analysis for each track from The Echo Nest's (publisher of Evolver.fm) database, and in some cases applies that analysis to a different instance of that track, so the tempo can drift a bit in a distinctly unmusical way.
However, the premise is quite sound, so to speak, and creators Gustaf Lindqvist and his co-creator, whose name we are still trying to ascertain, could tweak this to use the same instance of the track that the analysis applies to. (Plus, cut them some slack — they made this in under 24 hours at a Music Hack Day).
It's a neat concept, allowing anyone to take part in a track by "playing" instruments over one of their favorite songs — in fact, that's roughly how the author learned to play bass. But in this case, there's no actual bass, drums, or piano required: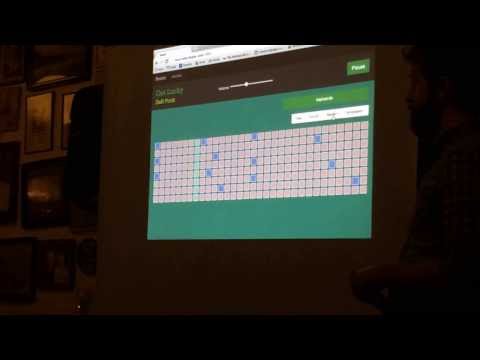 More hacks from Music Hack Day Malmö