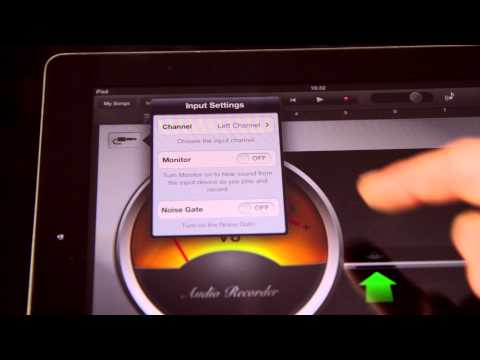 Our own Aarti Kelapure attended the launch party for the Focusrite iTrack Solo, which promises to turn any iPad (or Mac or PC) into a recording studio suitable for one-person music production for $200.
Aarti was mightily impressed, so we requested a review unit to put this thing through its paces outside of the craziness of a launch party. The short story: We remain impressed, having put it through its paces, for the reasons listed below.
To be clear, this device must be connected to a power outlet or computer, so you can forget those dreams of recording on a mountaintop with your iPhone, unless you bring along a battery that terminates in a regular household power outlet. However, it does work with a computer that is not plugged in. If you want to pack up and bail to a cabin (with electricity) like Bon Iver, this device is just about perfect, so far as we can tell, with everything you need to record any kind of music on an iOS device.
And if you bring your computer, you can even go without electricity for as long as its battery lasts. Time to start growing that beard!
The Focusrite iTrack Solo is a great purchase for people who want to record music on iOS or a computer for the following reasons, although we did find a couple of drawbacks; those are listed at the bottom.
Ingenious levels indicators
I plugged in my bass and started playing… too loud. This results in horrible digital distortion on the track, but the iTrack Solo has a solution: the little "halos" around the gain knobs light up green if you're at a safe level, or red if you're too loud. This makes it incredibly easy to set your levels for the best results.
Clean sound
The sound was as hiss- and distortion-free as you could ask for at $200 — very clean.
Solid, portable construction
Again, we were a bit surprised because $200 is cheap for an audio interface, but the exterior is nice and rugged. The Monitor knob feels slightly chintzy, but the gain knobs are solid and rubberized, with a good inertia to them. Overall, the build quality is pretty great, although there is one weird cable (more on that below).
No detectable latency
You can play with your previous tracks without getting out of sync. Or, the Direct Monitor function lets you hear what you're playing right from the box itself.
Phantom Power
It can power your nice microphone that needs 48 volts sent over the cable to power it.
Quarter-inch or XLR
This lets you record any range of microphones and instruments. You can output to headphones or a stereo via RCA plugs.
What we didn't like as much
There's no stereo input, so if you have a fancy keyboard that outputs two channels, only one of them will make it into your song. Don't worry though, singer/songwriters — you can use the XLR and quarter-inch channels at the same time, so you can record yourself singing with your guitar.
Also, for some reason, the little device link cable that goes to your iOS device juts 90 degrees to the right, crossing right over the power cable, and possible introducing negligible levels of interference (luckily, 90 degrees is the best angle for two cords to pass each other, but it would probably have been better to send the device link cable to the left, and away from the power cable entirely). And the cable is only about six inches long (see update below), so your iOS device will have to be right next to the box, which should be fine, but a longer cable might have been better, if less portable.
We heartily recommend this device overall if you are looking for a way to record music onto your iOS device (not just the iPad) or computer.
Update 5/2/2013: About that short cable, Focusrite tells us, "The 6 inch long cable that shipped with the product was made that way to comply with Apples regulations to allow us to put 'Made for iPad' on the box. After many customers requesting a longer cable or saying that they didn't like that length we now offer a free 1.2m cable to any customer that registers their product on the Focusrite website. This has been solving a lot of problems!"