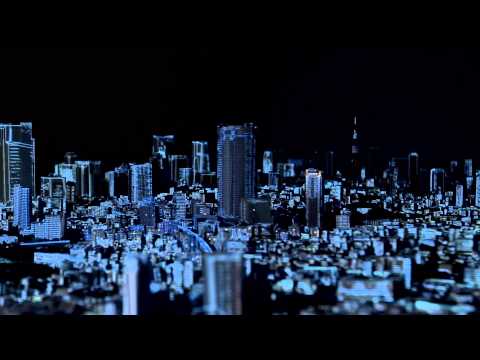 We didn't think Tokyo could seem any more dynamic or exciting, but that's what Japanese creator Tsubasa Oyagi sought to do with his recently-released interactive web app, Tokyo City Symphony. Combining 3D projection mapping with music generation, this visually stunning symphonic experience captures the innovative spirit of the city. Granted, it would be cooler if playing the instruments actually shined lights on the city itself, but for now, his miniature version will have to do — and it is a physical model.
Tokyo City Symphony works by projecting light onto a 1:1000 scale model of the city (originally created for the city's 2009 Olympic bid) while you use your keyboard to compose an accompanying 16-bar symphony, with each musical element being represented by a photograph of an associated projection.
You can choose from three themes, each with its own sounds and visuals. "Future City" and "Edo City" re-imagine Tokyo as futuristic and traditional incarnations, while "Rock City" fills the city with colorful monsters.
After you've created your own score by pressing keys on your keyboard to create a 16-step sequence, which you can edit in real time to change things up, you can sign it with your name and share it via Facebook, Twitter, or Google+. Even if you don't elect to share your piece, it will be added to the Archive, which currently contains over 7,000 contributions, and is as fun and well-designed as the rest of the app.
Tokyo City Symphony commemorates the tenth anniversary of the city's landmark Roppongi Hills, a sort of arcology, which serves as the central location in the web app.  The anniversary's motto is "Love Tokyo," this brilliant web app is no doubt the result of a labor of love as well.