As reported yesterday, a neat little app called GestSynch won Spotify's prize at Music Hack Day SF 2013 on Sunday. The team behind it has since posted a neat video (below) of the thing in action.
GestSynch is cool, but the real story here might be about Leap Motion. We hear from someone who was there and saw the demos that while Kinect hacks at Music Hack Days have a somewhat spotty track record, Leap Motion's devices, despite their small size, worked flawlessly and reliably (watch them play dubstep) in every single case. The company wasn't even supposed to be at Music Hack Day SF initially, but saw the action on Twitter, and came over with a bunch of boxes for the hackers to use.
The Leap Motion Controller sees the world through two cameras — sort of like humans and other animals do. In the GestSynch scenario, it looks for the following:
closed hand gesture: stop Spotify
vertical movement: scroll the lyrics forward (from musiXmatch, whose developers built this)
horizontal movement: scroll the lyrics back
Observe as the team demonstrates GestSynch in action: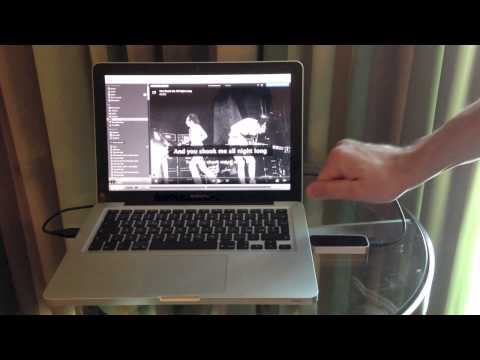 It's neat, right? Right now, GestSynch requires the Leap Motion Controller, but as this and technologies like it become integrated into televisions, computers, smartphones, and tablets, we expect a whole new world of music apps to open up.
Now we just need someone to build something like this for Turntable.fm.