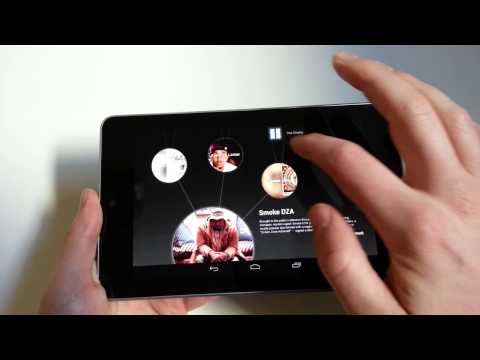 Earlier this week, Google rolled out its latest mobile operating system, Android 4.2 Jelly Bean, along with a tag-along announcement: a new music discovery app that sits within the Google Play Store. However, at this point, almost no one can use it; to try, you'll need an Android tablet as well as the new operating system,
We're not sure what the story is for the Android phone users who comprise the bulk of the Android community, but either way, the graphical nature of Google Music Explorer means it will always work better on a tablet anyway.
If Music Explorer is available on your device, you can find it by searching for an artist, clicking an album, and then looking for the button that says "Explore similar artists."
Once launched, Music Explorer displays the original artist plus three recommended artists, in a nice-looking graphical interface. You also get a photo of the original artist and a brief biography — and you can tap the recommended artists to put them at the center of the screen and view their photo and biography.
While the interface is visually appealing, we've seen it done before (and better) in the extremely popular Discovr Music app.
However, that is only available on iOS, so at least this gives Android tablet (and possibly phone, although it's not working on ours yet) users a taste of something similar.
(image: Phandroid)