Gotta love children! You really do! Don't you? With their boundless energy and insatiable curiosity, we believe children are the future, although entertaining them can challenge even the closest-hovering "helicopter parents." No parent can stay on their game forever.
Fortunately, the iPad and iPhone can provide kids with hours of brightly-colored games and sweet-sounding music with happy characters, all proffered up in the name of education or, in some cases, just plain fun. Critics say television makes kids sit there like potatoes, but they can't say the same about music apps.
Unfortunately, as we found in our research for this story,  not all kids apps are created equal — especially the music variety. We sifted through plenty of duds to make this list, because we were on a mission. Music has been found to be important to the development of children, so saddling your kid with a lame music app is not just a waste of time, money, enthusiasm, and disk space, but possibly of potential, too.
We found plenty of solid, fun music apps for kids that are sure to provide a positive musical experience, as well as bringing smiles to young faces (and their parents' too):
Little Fox Music Box ($3, ages 2-6, pictured above): No matter how much society and its toys evolve, there will always be a time and place for nursery rhymes. GoodBeans, a leading developer of child-friendly apps, have shown that they can survive the transition to iOS with Little Fox Music Box. This quaint program offers kids two timeless nursery rhymes and one lesser-known song, both in interactive scenes that are filled with stuff to tap and discover. The songs are playfully arranged (in the musical sense of the word), but they felt honest and real to this reviewer. Little Fox Music Box also comes with a scene where children can create original music via glass bottles and other auditory trinkets — a nice bonus, encouraging them to create music after enjoying that made by others.
Loopy Tunes ($2, ages 2-7, pictured left): Kids love bright and fun sounds, especially when they are repeated over and over and over and over again. As annoying as this can be to adult ears, if the kids can make creative use of their predilection for repetition, maybe there's something to be gained. Loopy Tunes from Tokeru does a fantastic job of allowing children to play with a wide variety of musical loops and sounds, with which they can improvise to build joyful jams. It's actually fun even for adults, which is why we include it here. This is due to the quality and staying power of the loops. We only wish this app came with a recording feature, so kids would be able to hear their creations played back later.
Rockford's Rock Opera (part 1 is free; 2, 3, and 4 cost $5 a piece; ages 5-12): With its hilarious, British-style humor, top-notch music inspired by rock opera classics, and brilliant, vibrant 3D animation imagery that would make Pixar jealous, Rockford's Rock Opera is a four-part app that includes a two-plus-hour-long story involving a little dog named Rockford and his journey to the magical island of Infinity, where he meets the last of every extinct species on earth. As kids learn about ecology (and horrors) of extinction, they and their parents end up singing along with expertly-written rock anthems. This app is so impressive that we were originally just going to include it here, but ended up writing a full review.
A Fine Musician ($2, ages 2-7, pictured right): Another example of a musical storybook that leverages the iPad, Tokeru's fine little nursery rhyme concerns a traveling street musician. He walks with a dancing stride, and entrances the local villagers to follow and dance with him, kinda like the Pied Piper. Everything about this looks and feels like a real storybook from the library — if it weren't for the music, sounds, clickable surprises and the floating villagers that move when you shift the iPad around, of course. We suspect this one will have both kids and parents enthralled.
Pitch Painter ($3, ages 3-5): Legendary American composer Morton Subotnick (of Silver Apples of the Moon fame) believes that children should be able to fingerpaint with music the same way they do with paint, and his musical canvas lets kids do exactly that. Children as young as three years old can use their little fingers to paint a musical piece, then play it back in a variety of ways, altering the instrument at will. This palette of musical brushes includes instrumentation from four different areas of the world. This app isn't enough to let your little Mozart bust out a symphony, but it should impart some compositional concepts as it introduces them to sounds from around the world. As Subotnick puts it, "In the visual arts, children can experience a large number of creative processes before they 'learn to draw,'" so why can't they do the same with music? Now, they can: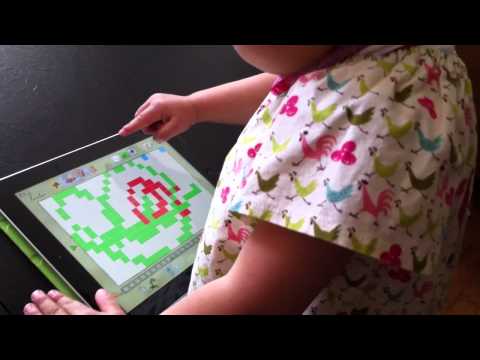 Rockford's Christmas Song (free, ages 0-100, apparently): Before he joined the above-mentioned rock opera, Rockford appeared in this Christmas-themed app, which features a music video for the track entitled "Rockford's Christmas." This lovely, catchy tune and adorable music video were originally created in 2004 as a fundraiser for a dog shelter in Battersea. The song became a bit of a hit, thus inspiring Sweetapple to create the larger-scale Rockford's Rock Opera. This thing is barely an app, to be fair, but we're so infatuated with this Rockford character that we're including it here anyway, even when the holidays are over three months away.
KBC Kids – Kid Friendly Hip Hop! ($1 for a limited time, no ages listed, pictured left): What what, yo, straight outta Sesame! Check the mad rhymes and sick beats of this legitimately cool iPad app, which lets the young-uns  try their hand at being a hip hop/rap DJ. This app from Gabuduck encourages your little hippity-hopster to choose from a collection of fun and friendly scenes, where they can mix together animated loops into musically phat combinations. On top of that, the little rappers can record their own samples and add those to the mix too, for that extra personal touch.
Make fun of the screenshots if you must, but many of the the scenes and sounds are very happy and silly, and thus will be repeated over and over again to the amusement of the future rap masters. Fortunately, their parents will find themselves nodding their heads to these beats and the sly words that accompany them.