As the world reels in amazement at the fact that singing the wrong song in the wrong place can get you thrown into Russian jail for two years and trapped in a cage without food and water as you await your trial, some of us also wonder: What does this band, Pussy Riot, sound like, anyway?
In a show of support, Slacker Radio wants to help you find out. The service's "protest radio" channel now features for songs by the band, one of which will play first whenever you stream the channel. You can either keep it playing for more protest music, once you get in the mood, and wait for the next Pussy Riot song to play as you enjoy other protest songs (with varying options to skip, depending on your account). However, if you reload the station, you won't start with another Pussy Riot song unless you use a different browser.
"We've added Pussy Riot to the Slacker 'Protest Radio' station in support of the band," writes Slacker spokes woman Andi Bean. "One of their songs will kick off the station for some time. If you want to listen, or would like to point your readers to this station, here is the direct link. We have the tracks:
- 'Kill the Sexist'
- 'Putin Wet Himself'
- 'Kropotkin Vodka'
- 'Deliver Pavement'
Slacker's "Protest Radio" station is free and can also be found in the 'Specialty' station category everywhere the service is available."
Before you hear Pussy Riot, you'll hear a minute-long introduction from the guy who curates Slacker's Protest Radio station, which is either good or bad depending on your point of view; the introduction only plays the first time you load the station. (Update: The DJ in question is Seattle legend Marco Collins.) Slacker also lets artists curate their own channels of their influences, favorite songs, and so on.
The above songs on Slacker come from Pussy Riot's album, Kill the Sexist. Following the trial, the trio released the following single: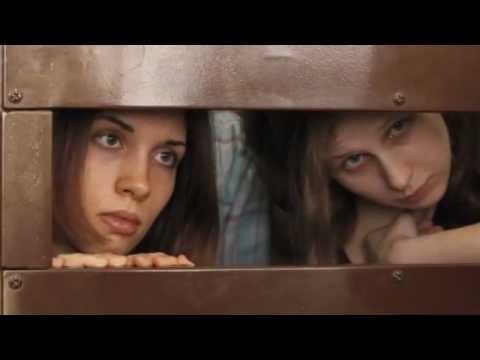 (image courtesy of deathandtaxes)