Synesthesia, a neurological malady that makes senses meant for one part of the brain be understood by another part, could be the only medical condition music fans might want to suffer from. The most notorious variety of Synesthesia is "Chromesthesia," which causes a person to see colors representing the sounds they're hearing, with fun-sounding implications for music.
If you own an iOS device and want to experience Chromesthesia's blitz of music and color, as I have wanted to do for years, Synesthetic ($2), from developer Alex Dantis, offers a pretty good taste.
Synesthetic (also available in a free-but-limited Lite version) is a rhythm-based game that turns your iOS device's music collection into a visually-stunning game that you play by tilting your device or using an on-screen joystick to avoid obstacles representing notes and beats in the song. Combining sound and visuals with gameplay, the app promises to blast the listener into a world of aural hallucination.
Upon first glance, Synesthetic will feel familiar players of Cube Runner, Starfox 64, Rez, or any other "on-rails" game, for that matter. A quick tutorial loads first to demonstrate the two control modes: tilt, where you manipulate the device in order to move (the Lite version only has this mode); or joystick, which lets you slide a dot  left or right to do the same. We recommend the tilt option, which felt more immersive.
The premise of the game is simple: You pick a song to play along with, "prepare" the song (which lets the app analyze the song to figure out where and when to place the gameplay elements), and then play it like a chromesthetic videogame. Each song in your library (no DRMed or iCloud-stored songs need apply) presents its own unique path and obstacles. As you listen, you must avoid obstacles that dock points and attenuate the music, or make it through gates, depending on the game mode. Speeds vary from song to song, with more intense, complex songs corresponding to more intense and challenging courses.
The tutorial introduces the user to graphics reminiscent of the '90s rave aesthetic (gameplay video below). The game has three modes: Practice/Vibe mode, where you try to rack up multiplier points by avoiding obstacles (the Lite version only has this one); Play/Wave mode, where you try to maintain a three-star rating by avoiding obstacles; and Compete/Flux, where you try to pass through as many of the same colored gates as possible. The app is integrated with Apple Game Center, so it can send your scores in automatically, so you can compete with your friends. However this only works with your Flux mode scores.
Overall, I was pleased with how Synesthetic represented the music on my iPhone. Slower tracks didn't necessarily make the game easier, while faster tracks didn't always make it harder. Instead, the elements that drove Synesthetic's difficulty level were mostly heavily repeated hi-hats (as in electronica from Lone); notes from multiple instruments played at the same time; general sonic chaos (i.e. Bad Brains); and strength of the rhythm (as in Sister Nancy's classic reggae hit "Bam Bam").
The "rails"-style track in the game in many ways resembles the waveform that you would see in an audio editing program or SoundCloud, making it like riding a rhythmic wave with its own twists and turns that are unique to the track. You're not just playing the track; you're playing it.
While I may never enjoy watching a ribbon of color make its way out of a speaker, the way synesthetes Tori Amos, Aphex Twin, Duke Ellington, and Pharrell Williams apparently do, Synesthetic, which I found hard to put down, allows at least a glimpse into minds that hear colors and see sounds. It's a fascinating concept.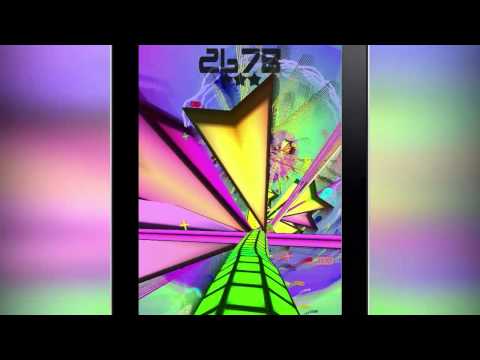 (tip from Stephan Kalani Seguin)