It's been about eight months since we launched our curated directory of music apps. That went fast.
The Evolver.fm music app directory broke the 2,500-app threshold recently, so we figured this would be as good a time as any to scour the database for best apps in each of our 35 categories of music app. You won't find any of these categories in the big app stores, which tend to lump them all under the umbrella of "music."
As we know all too well from cataloging thousands of these items, the world of music apps contains much more variety than that. Music services don't categorize every genre of music under "audible." Why should music apps be any different?
As such, this marks the beginning of our effort to to present you with the best of the best from each of those 35 classifications in four main categories. Up first: Atmospheric/Relaxation.
Compiling a "top 5″ for this category wasn't easy, because these apps can be something of a mystery. They won't help you write songs or teach you how to play an instrument, but this category includes some of the most beautiful, captivating apps around. And they're pretty much unique to the post-PC world; you don't see many programs for Mac or Windows designed to make you space out as you listen to music or manipulate on-screen elements.
However, we must point out that most of these apps are for iOS, and they tend to work best on the iPad.
(By the way, if you're an app developer for any platform and don't see your awesome music app in our database when you browse here or searching under "Download Apps" to the right, please let us know).
Onwards towards atmospheric, relaxing, musical nirvana!
The Infinite Music Machine is based on a FEED Soundspace presentation that took place in February 2012 in Berlin. A collaborative effort from sound artists Juju & Jordash with liquid visual presentations from artist Paul Skawinski, this installation sounds like it was pretty darn relaxing, although we weren't there. Juju & Jordash improvised a live musical performance while Skawinski's visuals were projected on a screen.
The Infinite Music Machine encapsulates the experience as an app. Here, the term "infinite" refers to the hypothetically infinite amount of time you can set for the app to run. Indeed, there seems to be no limit to how long one could stare at Skawinski's microbiologic visuals (video below) overdubbed with randomly-sequenced but calming analog synthesizers.
The Infinite Music Machine app has no real settings, to speak of, but we found it worth the price of admission if you feel like sitting back and zoning out.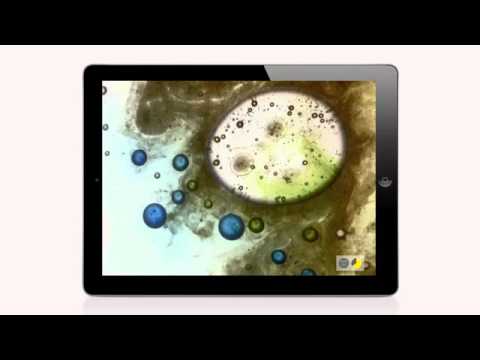 (Top photo courtesy of Flickr/magnetismus)