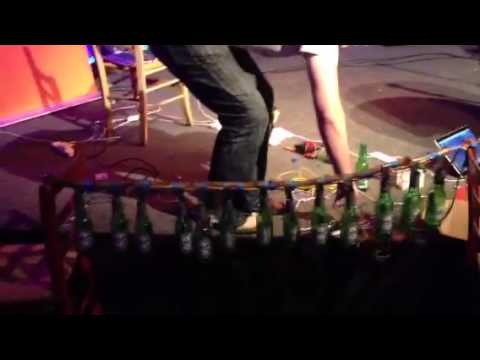 Music Hack Days, hackathons, hack battles, or whatever you want to call them are a real treat, if you're the type of person who enjoys watching exceedingly clever people build functional music apps and hacks over the course of a single weekend, fueled by a heady mixture of caffeine, beer, and a healthy competitive spirit. They're probably even better if you happen to be one of those people.
In this case, the medium was the message.
Evolver.fm just received word that Beerophone 2000, as seen above, won the award for Best Hack at the Way Out West Hack Battle (a.k.a #wowhack), sponsored by EMI, Spotify, and Luger in Gothenburg, Västra Götaland County, Sweden.
The theme of this hackathon was "music discovery," so we're a bit confused as to why this one took the top prize when some of the other projects focused on, you know, discovering music. Nonetheless, judging from the above video, which shows an uncompleted version of the hack, it was well deserved.
The Beerophone 2000 (not to be confused with the old-fashioned kind) is a MIDI xylophone made in part out of beer bottles with a pitch-bend function. Beer bottles! MIDI! Sweden! Not bad for a night's work.
Could the judges have been wearing beer goggles? No matter. Developers Paul King (pictured above) and Syd Lawrence (of the Kylie Minogue Twitter contest, Toma.hk embeddable music player, This Was My Jam, and Facebook Hipster) bested the competition. However, all of the hackers who participated will get free entry to the Way Out West festival this weekend.
We'll get back to the music app coverage in just a few minutes, but we couldn't resist. After all, it's not every day that you see an award-winning MIDI xylophone made out of beer bottles.
(See past music hack day results.)