Control Spotify on an Android with Another Android
Okay, you caught us out. Out of all six of these techniques for remote-controlling Spotify, this is the only one we were not able to test, because we only have one Android device in our New York office. However, we did install the app, and it's solid enough; besides, the developer includes helpful videos.
Note: This app uses Bluetooth, not WiFi. On the plus side, this means you can use it even in the absence of a wireless network (like in the car). On the negative side, it limits connectivity to 30 feet or so, which isn't enough in some home/party scenarios.
1. Install DroidRemote on both Android devices. Here's the configuration wizard that you will encounter at that point:
2. In that configuration wizard, make one of them the server. (This would be the one you want to act as the "receiver" —  the one you want to connect to your stereo system or powered speakers.)
3. On the other Android, go into the configuration wizard and make that one the client. (This would be the one you want to act as the "remote.")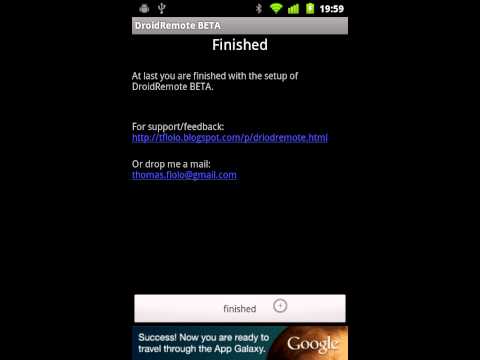 4. Using the client/remote version of the app, you'll be able to skip, play the previous track, or pause playback. We don't consider this a dealbreaker (especially because the app is free), but it does mean you'll have to set up a playlist or album to play on the "receiver" Android (the one that's configured as a server).