First: This is not a tablet app, or even a smartphone app. (Second: You're too late, because this offer expired on 6/21 — updated.)
Arturia Minimoog-V is a software synthesizer that runs on Macintosh or Windows desktop and laptop computers, which are these big, bulky machines with keyboards that you can't fit in your pocket or shoulder-bag. However, the software we're referring to here does interface with any smartphone or tablet MIDI controller app, so there's that. (You can also play it with a hardware MIDI keyboard — video below.)
We're talking here about Arturia Minimoog-V, which is creating a bit of a frenzy online today because it's available for free until 6pm ET. Arturia's website is currently unreachable, but you can still get in on the action if you want this software synthesizer, which loads as a plug-in within DAWs (digital audio workstations) like Logic or Ableton Live.
Once installed, it replicates the legendary Minimoog, which introduced by synthesizer guru Bob Moog at the NAMM convention in 1971 as "the very first compact and affordable synthesizer for musicians." In fact, Bob Moog himself was reportedly involved with the creation of this software, which improves on the original hardware Minimoog by adding polyphony, or the ability to play more than one note at the same time.
Arturia Minimoog-V usually costs $200. Today, you can get it for free. However, this requires some degree of patience, given the overwhelming demand for this thing. Y ou dutifully jump through some hoops.
First, Like the Arturia page on Facebook. Then click the link in the message area that talks about getting Arturia Minimoog-V for free. At that point, you need to allow a third-party app called Sweepstakes access to your Facebook account. If you don't want to spam your Facebook friends with the offer, choose the option that says "share with only me," like so:

Then you'll need to click Submit to send them your name and email address. You should an email within 48 hours after that, so long as you do all of this stuff by 6pm ET on Thursday, June 21, 2012.. When we tried, so many people were trying to get this app that we initially received a "too many connections" error within the Sweepstakes Facebook app; the second time, we achieved victory, or at least we think we did. The link has yet to show up; we'll update this when it comes in.
You've probably heard a Minimoog at one point or another. Here's what it sounds like: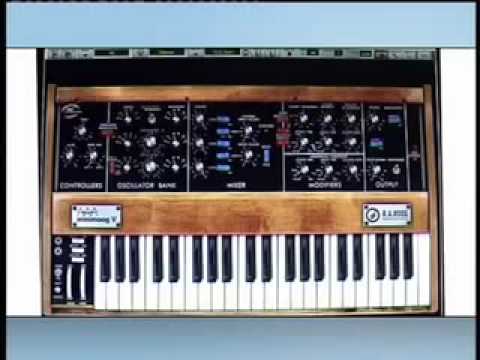 Here's Arturia's official description of Minimoog-V:
1971. At the NAMM convention, Bob Moog introduces the Minimoog, the very first compact and affordable synthesizer for musicians. With its fat sound and unparalleled filters, the Minimoog eventually became responsible for some of the best analog synth bass and lead sounds ever.
2004. At the NAMM show, Arturia introduces the minimoog V, a faithful reproduction of the Minimoog. Offering all the features of the original, the software version also brings polyphony, MIDI management, presets, coupled with other advantages of modern tools – behind the control panel are additional functions: a modulation matrix, an arpeggiator and an independent LFO as well as a stereo chorus and a delay.
But what about the core of the Minimoog, the sound? Thanks to TAE®, Arturia's proprietary technology for emulating analog circuits, the minimoog V offers an unchallenged quality of sound. Sharp filters, aliasing-free oscillators, soft-clipping guarantee you have the best analog emulation on the market.
The minimoog V comes loaded with more than 500 presets made by a selection of talented sound designers. It is certainly an instrument which is going to bring a lot to your musical palette.
Features:
Stereo synthesizer
Mono / polyphonic (up to 32 voices per instrument with unison possibilities)
Soft clipping function
No aliasing from 0.1 Hz to 20 kHz
64-bit floating point precision
Sampling rate: up to 96 kHz
More than 500 presets, made by talented sound designers and artists
Playable through a MIDI keyboard
3 voltage-controlled oscillators (with 5 waveforms)
1 LFO
The 24 dB/oct filter!
1 noise generator
2 ADS(R) envelopes
1 VCA
1 mixer
1 modulation matrix offering up to 6 different connections (12 sources, 32 destinations)
1 arpeggiator
1 stereo delay
1 three-mode chorus
1 external audio input
1 external oscillator and filter modulation input
Required Configuration:
PC: Pentium II 500 MHz, 128 MB of RAM, Windows 9x/2000/ME/XP
MAC: G3 500 MHz, 128 MB of RAM, MacOS 9.2.2 or higher, Mac OS X 10.2 or higher
Sound Card: Any sound card compatible with DirectX, ASIO, SoundManager or CoreAudiov
Compatibility:
PC: ASIO / DirectSound, Cubase 3.7 to SX, Ableton Live, Logic 4.7 or higher, Sonar 2.0 or higher, Pro Tools 5.x, Pro Tools 6.x
MacOS 9.2.2: Cubase 4.1 or higher, Logic 4.7 or higher, Digital Performer 3, Pro Tools 5.2
Mac OSX: CoreAudio, Cubase SX, Ableton Live, Pro Tools 6.x, Pro Tools 6.x, Logic 6 & DP4, Ableton Live
A 230-paged paper manual is provided in 3 languages: French, English and Japanese.