Not to toot my own horn, but I'm going to do it anyway, a little bit. If you don't like it, go listen to 50 years of summer jams or sign up for our Twitters: @evolverfm, @evolverfm_apps, and @evolverfm_news.
I have appeared all over the media talking about music apps and other digital music issues, for over a decade, on television networks (BBC, NBC, G4, etc.) and too many radio shows to count — perhaps most notably as the main guest on NPR's "Fresh Air" with the show's dulcet-voiced host, Terry Gross.
None, however, has consistently been more fun than WNYC's nationally-syndicated Soundcheck program, where I've talked digital music at least 13 times with host John Schaefer. As a bonus, I always stick around to see the musical guest play live in the studio. It's like having my own private concert. The best was probably seeing Bill Callahan perform "Prince Alone In The Studio."
This brings me to my point: Soundcheck is on hiatus for the summer, but it's doing podcasts, and it needs a jingle. Actually, it needs several, and it wants you to make one. To enter, all you need to do is record a 10-second audio snippet that mentions the word "soundcheck," possibly among other words. You can't use any instruments — voice and body parts only. This also means you could easily record and upload one with SoundCloud's mobile app in little more than ten seconds.
If you win, you'll get to hear your jingle kick off their podcast. Here are some more instructions, and here's Soundcheck's video entreaty: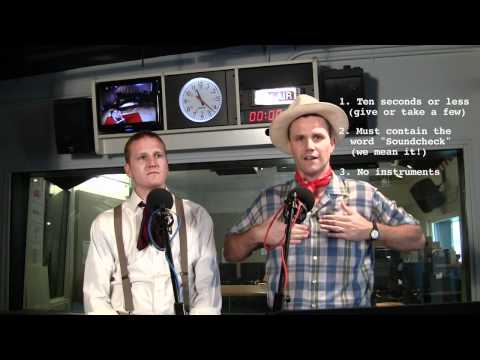 You can enter here.
Photo courtesy of Flickr/Greg Fost