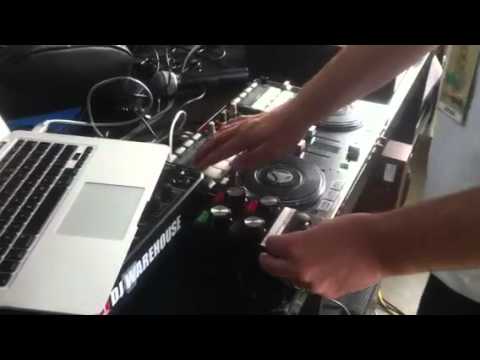 Dylan Wood of Serato, which makes the industry-standard DJ setup that lets people the playback of MP3s as if they were vinyl records, put together this show-stopping music hardware hack at Sydney Music Hack Day in a single weekend: 8Bit Serato VJ.
Once again, a Music Hack Day has made me wonder why I became an English major instead of one of these hack-day wizards. Wood's creation is ready for primetime after a single weekend, and we wouldn't be surprised to see it find commercial release.
This head of research and development at Serato says he made 8Bit Serato VJ because as a DJ and developer at Serato, he's noticed a lack of copyright-cleared visuals for DJs to use in their performances. This hack gets around that problem by creating completely original graphics for each song the DJ plays during their sets, and reacts to the music.
In the above demonstration, the visuals display on a laptop, but when deployed in a nightclub, they'd appear on one or more large screens. Each of the knobs on the hardware box controls the parameters of the visuals. Our video doesn't do an amazing job of displaying them, but you can check out the screenshots below as well.
For those who can decipher it, here's how Wood says he did it:
Uses a teensy microcontroller as a midi device working alongside a Serato ITCH controller and Serato software. Both pieces of hardware control a quartz composition running NES roms to create glitched out visual with the music. Max MSP provides FFT analysis via OSC message to drive the quartz composition (Quartz was being a dick about reading input from my sound card directly)

…Max MSP for FFT analysis/OSC sending Quartz Composer for visual patching Open EMU to run NES roms Teensy microcontroller to make the visual controller Serato ITCH with a Vestax VCI-380 for DJing.
And there you have it. Here are some pretty pictures of the hardware and the software behind it:
Read Evolver.fm's full coverage of Music Hack Day Sydney.
(Images courtesy of Dylan Wood)