Most of the loyal users of Starmaker Karaoke for iOS are 11-16-year-old girls, college girls, and "young mothers" who have made it the top karaoke app in the iTunes app store, although they're not karaoke enthusiasts, per se. Instead, according to Starmaker product manager Reed Kavner, they love pop music from the radio and want to sing along — and maybe get a little taste of stardom through the app's sharing and gaming features.
Starmaker is simple: It plays the backing tracks any of over 500 hit pop songs you've actually heard of, while displaying the notes you're supposed to sing on an easy-to-read scale. Then, the iOS app figures out how far off you are using official Antares Autotune pitch detection technology to present a score on your performance — a relatively recent "gamification" of the app.
After you've made it through the song, Starmaker grades your accuracy. Kavner said that sort of instant feedback can improve one's singing over time, but really, the app is about having fun and sharing your renditions of pop songs — either with the Starmaker community or with your Facebook and Twitter friends.
But wait, isn't the American Idol thing sort of over?
"I don't think the American Idol thing has run its course at all, as evidenced by the emer[gance] of The X Factor in America, and The Voice on NBC," responded Kavner. "If you look at The Voice, it's competition based around talent, not personality or appearance, because they face the judges' backs. So it's interesting to watch tastes evolve."
The below video demonstration of Starmaker proves two things: A) That the app can track pitch even in a crowded environment like a hotel lobby at SXSW, and B) Kavner cannot be accused of having perfect pitch, although to be fair, there was a ton of background sound in this room and he might not have been able to hear the backing track very well. So go easy!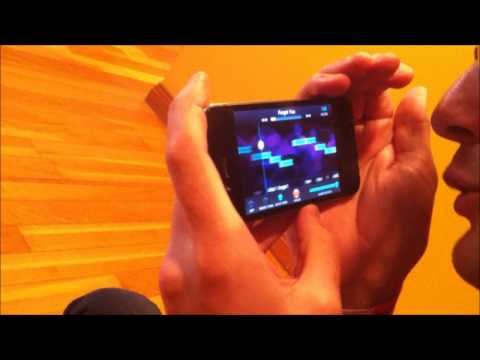 One nice thing about this app, when it comes to sharing your songs: It can apply autotune to clean up your performance before you share it.
(If history is any indication, Starmaker will go far. The last time I shot a video demonstration of a karaoke app at SXSW, it took off in a huge way, and Khu.sh was acquired by Smule late last year.)