On Thursday, Facebook announced its breakthrough real-time group music listening feature, which rolls out first for Spotify, with other services to follow at some point in the future.
Today, Cole Flournoy, the developer of another real-time group listening app, LetsListen, claims that the cozy relationship between Facebook and Spotify is too cozy — in fact, he says, it's downright anti-competitive.
He writes,
Facebook's brand new "Listen with me" feature that's been getting so much attention – LetsListen already has it, and it's had it for a long time. So why haven't you heard about it? Because Facebook hasn't allowed you to see it [his emphasis].
He goes on to allege that "Facebook has only allowed certain companies with special insider deals to integrate with ticker feed," which is its right. Facebook can do whatever it wants with its real-time feed, which shows Facebook users what their friends are listening to, saying, reading, watching, and so on.
Now that
Facebook lets you listen to music at the same time
 as your friends as you chat about it (sort of like but not exactly like
Turntable.fm
), Flournoy says Facebook has gone too far in favoring its favorite partner. Investor Sean Parker has stakes in both companies, and has reportedly
argued with Facebook's Mark Zuckerberg
about Spotify switching to a Facebook log-in.
According to Flournoy, in return for Spotify requiring its new users to use Facebook to authenticate their identities (which also lets Facebook scrobble their Spotify plays), Facebook essentially granted Spotify most-favored nation status, increasing Spotify's popularity considerably while preventing LetsListen and others from launching this nifty real-time-listening feature, until Spotify did so first.
As proof that LetsListen is already capable of allowing users to join up via Facebook to listen to the same song at the same time, Flournoy posted this video of the feature working, but only if the user has a developer's account on Facebook: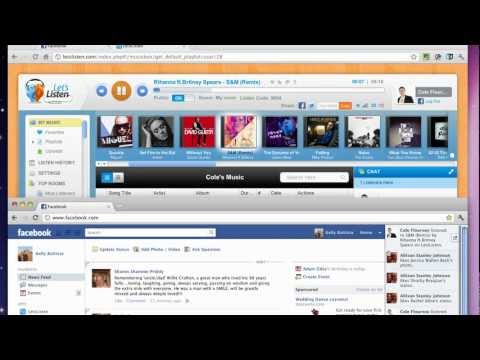 Again, Facebook can do whatever it wants here, and there's nothing wrong with that. It's a free country, like they say. Maybe Facebook thinks Spotify's the best place to roll this feature out first, and Flournoy's LetsListen is admittedly a small startup. That's not going to stop Flournoy from trying, though:
Zuck if you are out there, let us in. We're a small bootstrapped startup in the 'working out of the apartment phase,' but we're scrappy and we think we have integrated with the ticker feed in a better way than any other music apps out there.