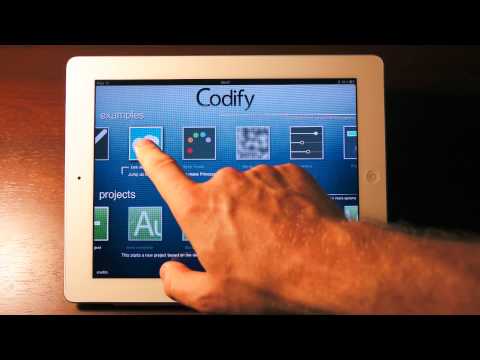 In some ways, some critics were wrong, when they said the iPad offers little to creative people who make things as opposed to merely consuming them, as proven by all the innovative recording and sonic fingerpainting apps we've seen, among many others.
However, when it comes to building apps and programming other software, the iPad appears to be completely hamstrung by Apple's rules. As a result, any dreams you might have had of assembling an iPad app by dragging around modules and entering code on the iPad itself remain out of reach.
This is perhaps the clearest sign yet that iOS devices are not computers in the traditional sense, and actually represent a step back for personal computing. By comparison, scientists want to build nanotechnology robots that can replicate another generation of nanotechnology robots. That way, they can scale. However, it is precisely this feature that Apple appears to have blocked in its most innovative new devices.
Simply put: You can write all the code you want on an iPad — you just can't export it so that other people can run it, which is generally the point of writing software. (This is why you never hear the phrase "write once, run here only.")
Check out the following snippet from TouchArcade's review of Codify, an iPad app for building games:
I've heard more than a few developers attempting to create similar tools for the iPad, but all of them have hit various roadblocks in the Apple approval process because they all (in one way or another) allowed you to get code and assets onto the device and execute it.

Codify sidesteps this by coming with a wide variety of assets, but unfortunately all of your creations will be trapped on your own device. Right now, there's no way to export (or import) anything, although Two Lives Left have told us they've submitted an update to Apple that has this functionality and they're planning on working with the approval teams to come to some kind of solution.
The comments on the Codify page within iTunes bear this out:
"Interesting. Add social sharing of code," writes John Bond.
"I agree that there needs to be a social sharing component to this… The ability to share small projects would be awesome. I also don't see a way to "compile" these projects into something useful or export them so that I can compile them on a desktop. Is there a process whereby I can do this to produce apps?" adds Scott Fitzhugh.
Evolver.fm asked Apple about six hours ago whether it has any comment on its policy of hobbling apps that let you write code, and have yet to hear back (this is normal). But it's good news that developer Two Lives Left is reportedly working with Apple's approval team to figure something out.
Let's hope they do, because the iPad actually looks like a pretty decent development tool in the above Codify demonstration (or at least it looks that way to a former English major whose last programming language was BASIC).