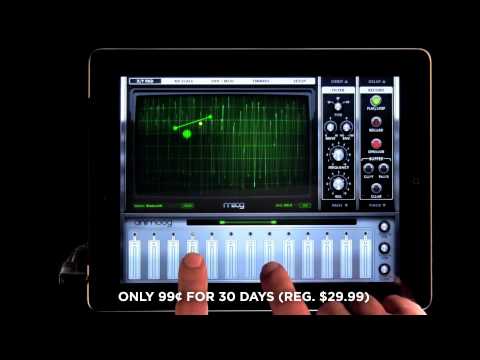 Even if you're not a musician, you might know the name Moog from T-shirts at music festivals, or perhaps even at the Moogfest festival.
Moog (rhymes with "brogue") makes all sorts of jaw-droppingly-expensive analog synthesizers, digital synthesizers that act like analog ones, guitar pedals, an insanely advanced guitar, and now, an iPad synthesizer app, Animoog.
(12/21 update: Animoog is now available for the iPhone as well.)
Today, and for the next month or so, Animoog costs $1. After that, its price will skyrocket to $30. (Update: that has now happened, although the iPhone version only costs a buck.)
You can probably see where we're going with this: If you're remotely interested in playing a Moog synthesizer on your iPad, you should probably stop reading this article and just buy the thing already. Or, if you need to do more research, my former colleague Michael Calore has a full review on Wired.com.
Evolver.fm generally focuses on stuff for music fans, rather apps for making music, but we can't resist mentioning this, because, for now, anyone with iOS can afford a Moog.
App developers regularly play with price like this, dropping (or eliminating) the price to increase popularity and raising it to increase revenue. However, the $1-to-$30 increase is way bigger than usual, so it really pays (literally) to act now, if you're interested.