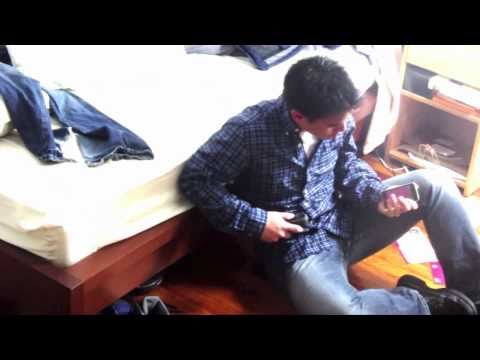 It takes a lot for us to post a cover of Bruno Mars' omnipresent, saccharine, generic (we could go on) pop anthem, "Just The Way You Are." But hey, to each his own — and this is a music app blog, not a music blog.
With that in mind, we just had to give props to the above video purely on the strength of the invisible instruments Tim Soo used to create it, which lash the advanced consumer hardware found in the iPhone and Wii Remote via MIDI to various on-computer instruments. Okay, so the whole set-up is not invisible, but it's closer than your average Stradivarius.
We first saw Soo's invisible drums, guitar and violin at Music Hack Day New York, where they beat out 71 other apps to take the top prize. He has continued to make improvements, judging from the above video, and claims to have also designed an invisible cello, bass, keyboard, theremin and conductor baton, for controlling the tempo at which recordings play back).
Now, he's looking for investors. So far, 55 backers have pledged $2,804 on Kickstarter towards Soo's goal of $10,000, which he says he needs to build invisible wind/brass instruments, harmonica, harp, and "any others that are suggested."
That's all well and good, but here's one suggestion for starters: Next time, please cover a different song.